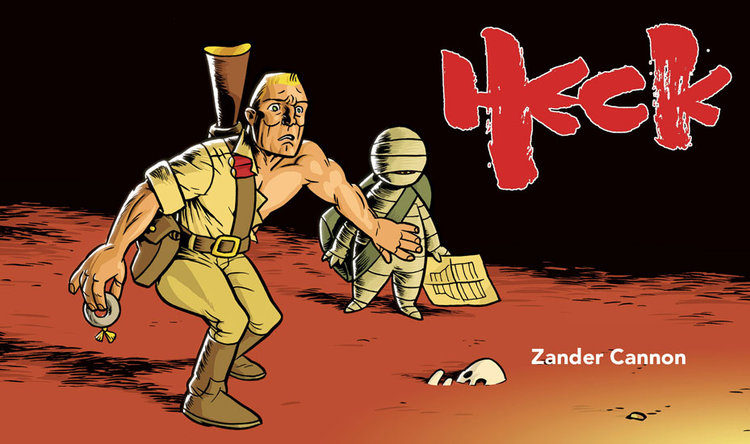 Heck by Zander Cannon (Top Shelf Productions)
As a riff on Dante's Inferno, Heck isn't content to settle on the obvious trappings of an adventure in hell. Taking the concept of circles of Hell as physical locations designed to reflect dark human psychology, cartoonist Zander Cannon offers his hero, Hector Hammarskjold, who unknowingly inherits a pathway to the underworld that he figures out a way to exploit monetarily.
Hector — or Heck — is one of those guys who had it all in his high school years, but the adult ones seem to be a bit of a letdown for him. His father's funeral brings him back to his hometown and, of course, old wounds, connections, rivalries, loves, and disappointments surface in abundance. These all converge when an old romantic interest hires him to go down to Hell to take a message to her recently deceased husband, a high school rival of Heck's. Heck, who concocts designs on the woman as a way of perking himself up about his own future, embarks on an adventure in the underworld that is alternately thrilling, hilarious, and depressing.
As you can expect, there are lessons for Heck on this journey, but they aren't always the obvious ones. As someone who bolted from his hometown, he never much thought about those he left behind, in parallel to the dead he encounters in Hell, and Heck's ultimate destiny is to learn to nurture and value relationships with an understanding for the other people in them with you, not just yourself and a six-inch emotional periphery around you.
This, then, is the surprise of Heck — Cannon offers a cartoon work so multi-dimensional that poignancy ends up being part of the mix, and not in a corny way at all. In fact, it's the emotional maturity that Cannon brings to the rollicking adventure that really makes it stand out as something very different — you can enjoy the action and adventure and humor, but there is something at the core of Heck that runs deeper than any of those. Cannon understands that Hell isn't just there for our amusement — it offers so much more.
Related Posts